Uncle Donald Records the Nostalgia of Halloween on Castro Street! Sometimes, paving the way was just plain fun!
My first Halloween experience in San Francisco was in 1970. It was a lot different then. Halloween was already a high holy day in gay circles, but was not celebrated quite as openly as it is today. Queens worked for weeks on their costumes and made every effort to be the "Best of Show". There was still a lot of police harassment in the 1970's and wearing "drag" in public was sometimes used as grounds for arrest. So, Halloween was the only day of the year that it was "safe" for a man to go out in public wearing a dress, or at least this was the accepted "wisdom".
There was no organized event for gays on Halloween, but many of the downtown and Polk Street Bars planned appropriate festivities, including costume contests. Drag Queens and their "male" escorts (usually in tuxedos) would rent Limousines and drive from bar to bar showing off their elaborate creations. The custom grew in popularity and people would gather outside bars and watch the exotic parade of furs and rhinestones and feathers and glamour.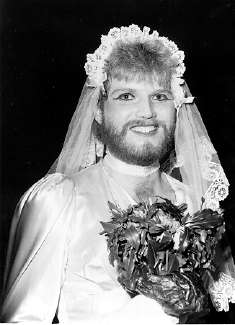 By the mid-seventies the crowds that gathered on Polk Street to see the costumes (and some skimpily-clad revelers) became so large that the street was closed to traffic for Halloween. With official street closure came the feeling that the event was sanctioned by the City. The inevitable publicity drew crowds of curiosity seekers from miles around. By 1976, the event had become so infiltrated by fag-bashers and other trouble-makers that it was doomed. That year there was an incident involving a clash between police and fag-bashers. Tear gas was used and the party was over on Polk Street.
Across town, the new gay community in the Castro was growing bigger and stronger and bolder and on Halloween, Gays were beginning to congregate there for Halloween more and more as Polk Street's lure lessened. There was already a Halloween tradition on Castro Street. It was started by Grandpa Ernie, owner of Cliff's Variety on Castro. His Halloween window displays were a delightful mechanized production. He would park a flat-bed trailer in front of his store and invite all the neighborhood children to an early-evening party with costume and pie-eating contests. He was the Master-of-Ceremonies, in costume. Besides being good to the kids, Ernie was also an honest and generous man, a credit to the Castro!
Since the street was already closed to traffic for Cliff's Party, it was natural for the Gay Boys to take the street, and it was hard for the police to get the street cleared for traffic. Eventually they just gave up trying and that's how we ended up having an official Halloween party on Castro Street! (We used to LOVE to take the street and did it whenever there were enough people to make it happen. But that's another story.)
For a few years the Castro Halloween party was great fun. There weren't many "outsiders" and very little trouble. As time passed, the trouble makers began their immature but dangerous pranks again, and each year brought more incidents. A group called Community United Against Violence (CUAV) was formed to deal with these kinds of problems and to document the incidents of "fag bashing". Hate crimes often go unreported because of various fears which victims experience. Without statistics, it was difficult to prove that hate crimes were a reality. CUAV did (and does) an excellent job of training Volunteer security people and whenever a suspicious person or group would be spotted in the crowd, walkie-talkies were used to spread the word. Volunteers would gather and surround the suspects. They didn't confront, they simply walked in unison toward the edge of the celebration, leaving the suspects no choice but to go along. These people got the message that they were not dealing with sissies here. They were presented with a show of strength and reconsidered their intentions.
There were then and probably always will be cowards who will attack a lone victim like a pack of wolves. This was always a problem on the dark streets near the Castro. Police are cooperative, but can only do so much. CUAV instituted and publicized a "whistle" program. Carry a whistle and if you get in trouble, use it. Suddenly whistles were available everywhere in the Castro at a reasonable price. Most of us were doubtful that the program would meet success. But the idea caught on, and when one whistle blew, other whistles blew, and people moved in the direction of the sound. The idea worked! It was a matter of community pride and cooperation. It's not hard to imagine how a gang of thugs will react when they see 20 or 30 or more people running toward them! Gay people know how to party! A sizeable, portion of the larger community (the gay-friendly) are aware of this. When word gets out that gays are having a good time on a regular basis, this group is eager to join in the fun. They are welcome. The more, the merrier. But unfortunately the Castro business district is quite small (basically 2 blocks of Castro and 1 block of Market). The Halloween party crowd has grown so large that the neighborhood is overwhelmed by the event and traffic through the area is crippled. This year (1996) CUAV is organizing the party and it will be held at the Civic Center, an area that can handle large crowds. CUAV is expecting a crowd of up to 200,000 people.
FRIDAY NOVEMBER 1, 1996
Last night there were two Halloween parties in the City. There was the 'Official' celebration at the Civic Center. The San Francisco Chronicle estimates that there were 45,000 people at 9 PM. The area is so large that it was easy to feel apart from the festivities in a crowd that size. There were no major problems or incidents.
It was inevitable that there would be a Halloween party on Castro as well. In spite of the well advertised change of location, or maybe because of it, a crowd showed up on Castro Street to celebrate. It was small compared to previous years, but it was festive like it had been in the Seventies. The police anticipated a crowd and prepared for it. On Wednesday they posted 'NO PARKING' signs and brought in barricades to close the streets if necessary. Although there was no planned entertainment, the Castro gathering proved to be quite enjoyable. Many locals seemed to be celebrating the return to a more sane and simple neighorhood event. Others were unhappy that the traditional celebration of Halloween in the Castro did not become a thing of the past as they had expected.
WEDNESDAY, OCTOBER 29, 1997
Here it is 'NEXT YEAR' and I have seen NO announcements about a Halloween Party in San Francisco. I've been told that CUAV lost a bundle last year in hosting the official party in the Civic Center and has declined to produce the party again. Another organization has allegedly picked up the Pumpkin and will host the Civic Center party. Last Thursday there was no mention of Halloween in the Bay Area Reporter, one of the weekly SF gay papers. This past weekend the Castro was already in the Halloween spirit. All weekend long the street was festive and many people were testing out their costumes. You can be sure that San Francisco's gay community will celebrate this weekend whether there is a 'Party' or not. After all, these are the high holy days! I predict that Castro Street will be closed to traffic by 8 PM or so on both Friday and Saturday nights. There could be 5 'Official' parties elsewhere in The City, and still the tradition of Halloween will continue on Castro Street with or without blessings from City Hall. And, it will be the best party in town! Tune in next week for an update.
SATURDAY, NOVEMBER 1, 1997
Once again, there were two Halloween parties in San Francisco. The 'Official' party at the Civic Center was produced by Mission Economic and Cultural Association and admission was $5.00 There were 3 stages set up for entertainment. I don't know yet how it went.
When I arrived at Castro Street around 9 PM, the party had already begun. The two blocks of Castro from Market to 19th were packed with revelers enjoying the 64 degree balmy evening. Traffic was still flowing on Market, but within an hour the crowd had doubled in size and spread into Market as well as 18th Street. Although there was no planned entertainment, dance music blared from speakers at Hot Cookie and an acoustic percussion band wandered through the crowd providing a toe-tapping beat. The mood was very festive. Imaginative, excellently made costumes were everywhere. This was one FINE party! When I left at 3 AM, the crowd had thinned somewhat but the streets were still full and the party was nowhere near winding down.
TUESDAY, OCTOBER 31, 2000
A real nice quiet evening on Castro Street; as quiet as can be expected of half-a-million party minded people. The sky was clear. There was no wind. The temperature was balmy for the end of October (mid-50's F). The Castro was overflowing with celebrants, the vast majority in some form of costume. The party stretched from 16th to 19th on Castro Street, from Collingwood to Noe on Market and the same on 18th. Good vibes were everywhere. The only people I noticed that looked bored were the staff of the medical tent in Collingwood Park. I have no idea what it was like at the "Official" party at Civic Center, but I can't imagine why anyone would go there when they could be in the Castro having the time of their life! I was there until after 2 AM and then I seemed to be the only one leaving the scene!
When Halloween falls on a week day, the weekend before it is always just as festive. This year was an exception because it rained quite heavily on Saturday night even though rainy season isn't due for another month! Fortunately, private parties were what was happening that night all over the Castro. Tonight's crowd sure made up for the disappointing weekend street party.
OCTOBER 2003
Last year there was a lot of trouble on Castro during the Halloween party. There were several stabbings and other violence. The crowd is no longer a "Castro" crowd. People come from everywhere to party. The locals tend to go to private parties. The organizers expect a crowd of 300,000 on Friday October 31. Although it is illegal to have open containers of alcoholic beverages in public the police have always looked the other way during Castro public events. Bars sell drinks in "to go" cups and liquor stores always have a very very profitable evening. This year, due to past violence, it has been announced that police will search everyone entering the area and confiscate all weapons, real or imitation, and alcoholic beverages. Plain clothes officers and ABC (Alcoholic Beverage Commission) agents will be in the crowd looking for illegal sales and possession of alcohol. It appears that this crackdown by City Officials may signal the decline of the traditional Halloween celebration in San Francisco.
TUESDAY, OCTOBER 31, 2006
Once again the closing of the Castro for Halloween was a controversial issue. There have been serious problems every recent year and this was no exception. The permit was granted with the understanding that there would be a heavy police presence, no alcohol would be allowed on the street, and the party would be over at 11:00 PM. The party was well attended and festive until the music ended around 10:30 PM. There were reports of a porta-potty being overturned and a bottle being thrown. Then gun shots rang out on Market Street, a block and a half from Castro Street. In all, 9 persons were shot, two of them critically. The police said it was a gang related incident. No arrests have been made. I have a strong feeling that this will be the last Castro Halloween party approved by the City, but I agree with Mayor Newsom who said last night that
"You can't stop a tradition."
AUGUST 2007 – Press Release
UPDATE ON HALLOWEEN 2007
For several months, the City has been pursuing relocating the City-sponsored Halloween event. A planned event at Parking Lot A of AT&T Park, which was to feature a performance by pop singer Pink, was moving forward. Unfortunately, in early August the promoter pulled out for medical reasons. While there will not be an alternate Halloween event, Mayor Newsom and Supervisor Dufty are committed that Halloween in the Castro will not continue. The Mayor's office is driving a publicity effort to advertise the cancellation of the event and raise awareness of other Halloween events in the Bay Area, in an effort to encourage people to celebrate in their home communities. No entertainment stages or street closures are planned in the Castro.
However, the City recognizes that the Castro will be a destination for some on Halloween night. With extensive publicity, Supervisor Dufty is confident that the crowd will be significantly smaller. For those who disregard the City's directions, the public safety departments will be out in equal or increased numbers as last year and will not hesitate to cite and arrest for any violation.
In addition, Supervisor Dufty has asked liquor-serving businesses in the area to close their doors early on Halloween night. The City is working with the Convention and Visitors' Bureau to help promote those businesses who choose to close in order to help them recoup some profits from what is a profitable but problematic night. At a meeting on August 16, 10% of businesses committed to close early ­ a great beginning to this effort. Supervisor Dufty is confident that more businesses will commit to closing as the process moves forward.